How can I change the card details added for payments ?
The card details can be changed or a new card can be added for payments from the stripe pages. Please follow the below steps to add a new card and to make it as default payment option :

1. Login to console and go to
My Plan
module and click on
View Plan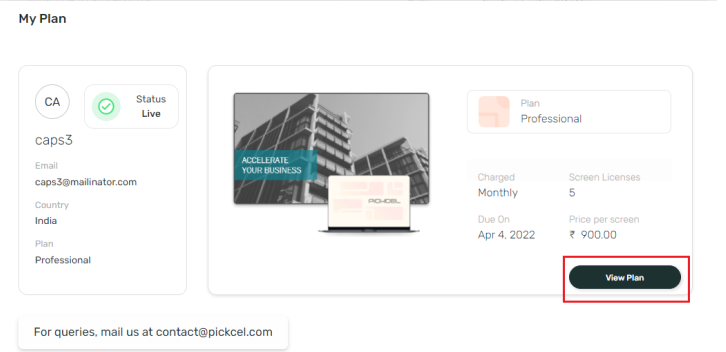 2. You will be taken to the stripe payment page. Here click on Add payment method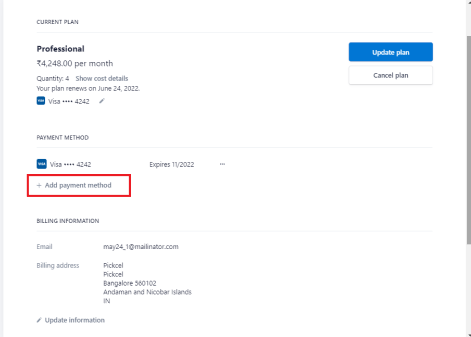 3. Enter your card details and click on Add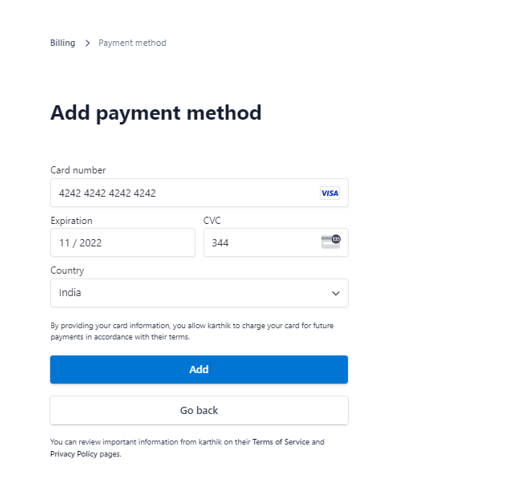 4. The newly added card will be visible in the listing now. Click on the 3 dots against the card and select Make default, if this card needs to be used for future payments by default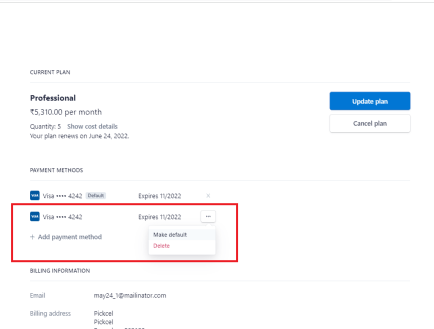 Related Articles

Do I have to pay manually every month ? Or my credit card would be auto-debited every month?

Your credit card will be auto-debited every month/year depending on the subscription you have opted for. For example, if you have purchased the license for 10 displays on May 1, on a monthly subscription then your account will be auto-debited for 10 ...

What are the available payment options?

Available payments options are : Credit Card Debit Card Net Banking Wallet (PayZapp, Ola Money, Freecharge) UPI Payments (from apps like BHIM, PhonePe, Google Pay (Tez), Paytm etc.) PayPal (For customers outside India)

How to change orientation (landscape/portrait)?

1. Go to the app settings. To go to the setting screen, Connect mouse to the device > while the app is running on screen > Double right-click > it will redirect you to the Settings screen. 2. Click on the Settings button. 3. select the orientation ...

How to upgrade from the free plan?

1. Log in to your Pickcel account. Click on "My Plan" from the menu and select the upgrade option of your choice. 2. Enter your address details, GST number in the form and click on "Proceed" It will take you to the stripe checkout page 3. Enter the ...

What is default composition? How do I set a default composition?

Default composition is a composition set to any screen that has no Quick Play or scheduled content assigned to it. This is also the composition that starts to play automatically whenever a new screen is added. There are three ways to set Default ...