How can I change the card details added for payments in Pickcel ?
The card details can be changed or a new card can be added for payments from the stripe pages. Please follow the below steps to add a new card and to make it as default payment option :

1. Login to console and go to
My Plan
module and click on
View Plan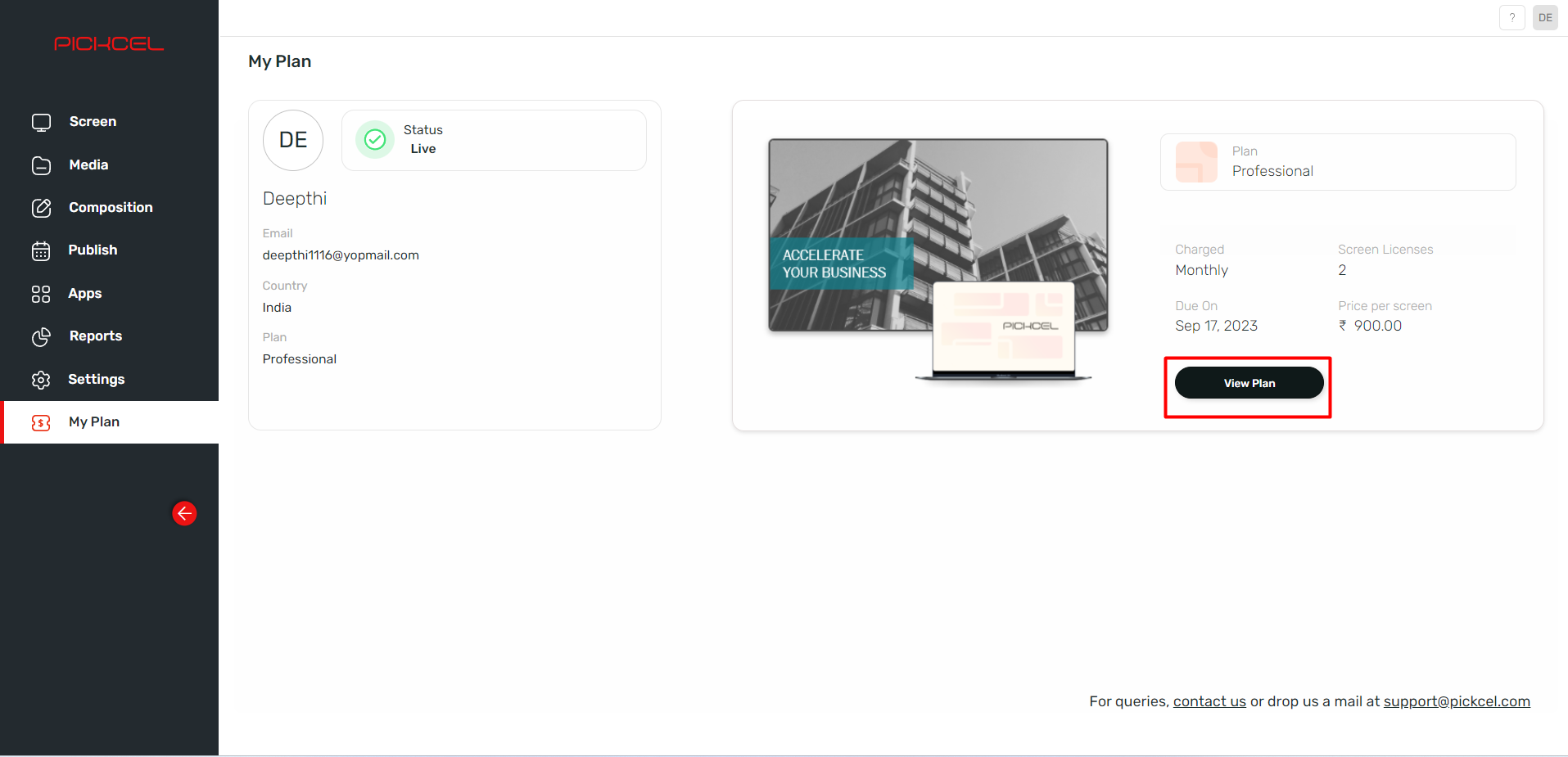 2. You will be taken to the stripe payment page. Here click on Add payment method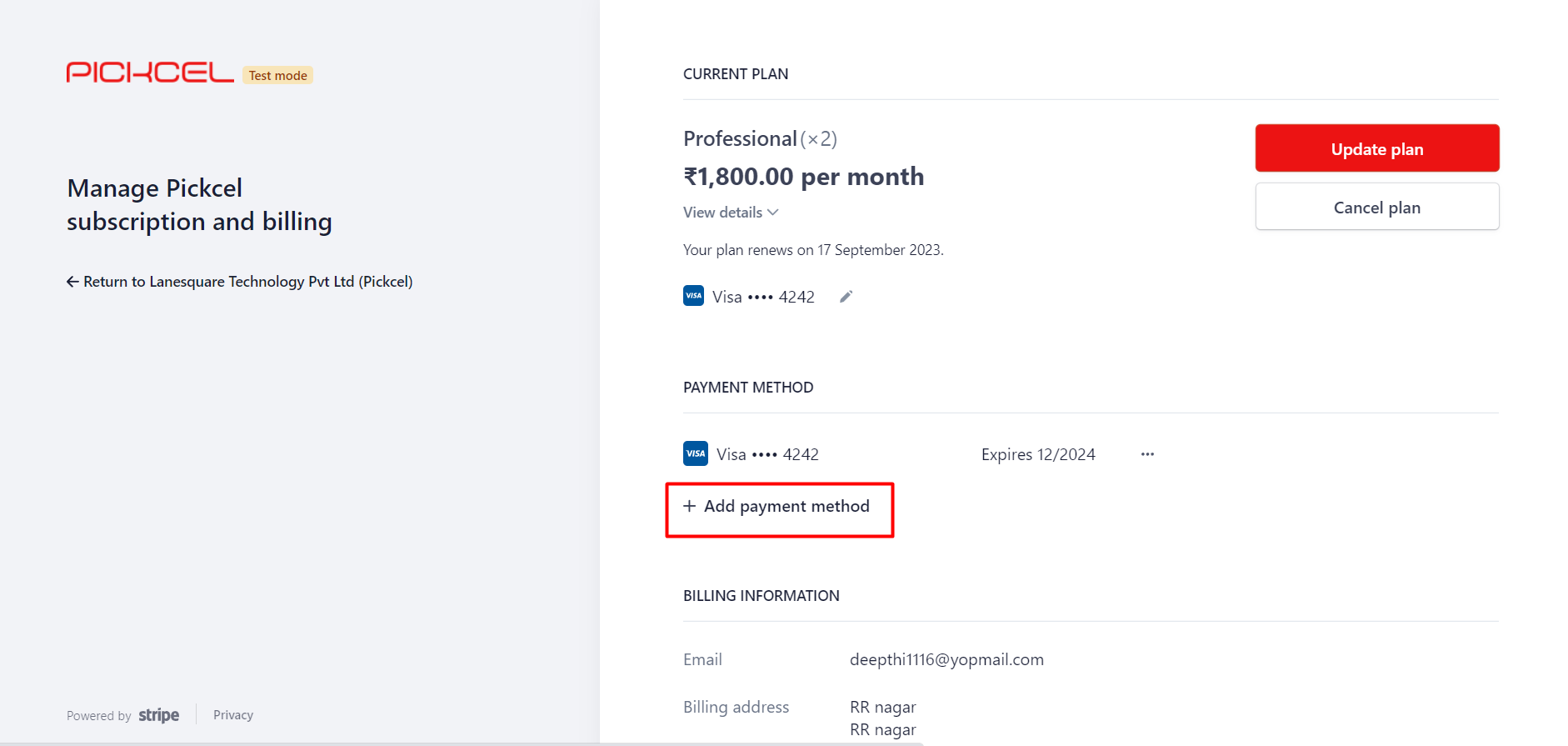 3. Enter your card details and click on Add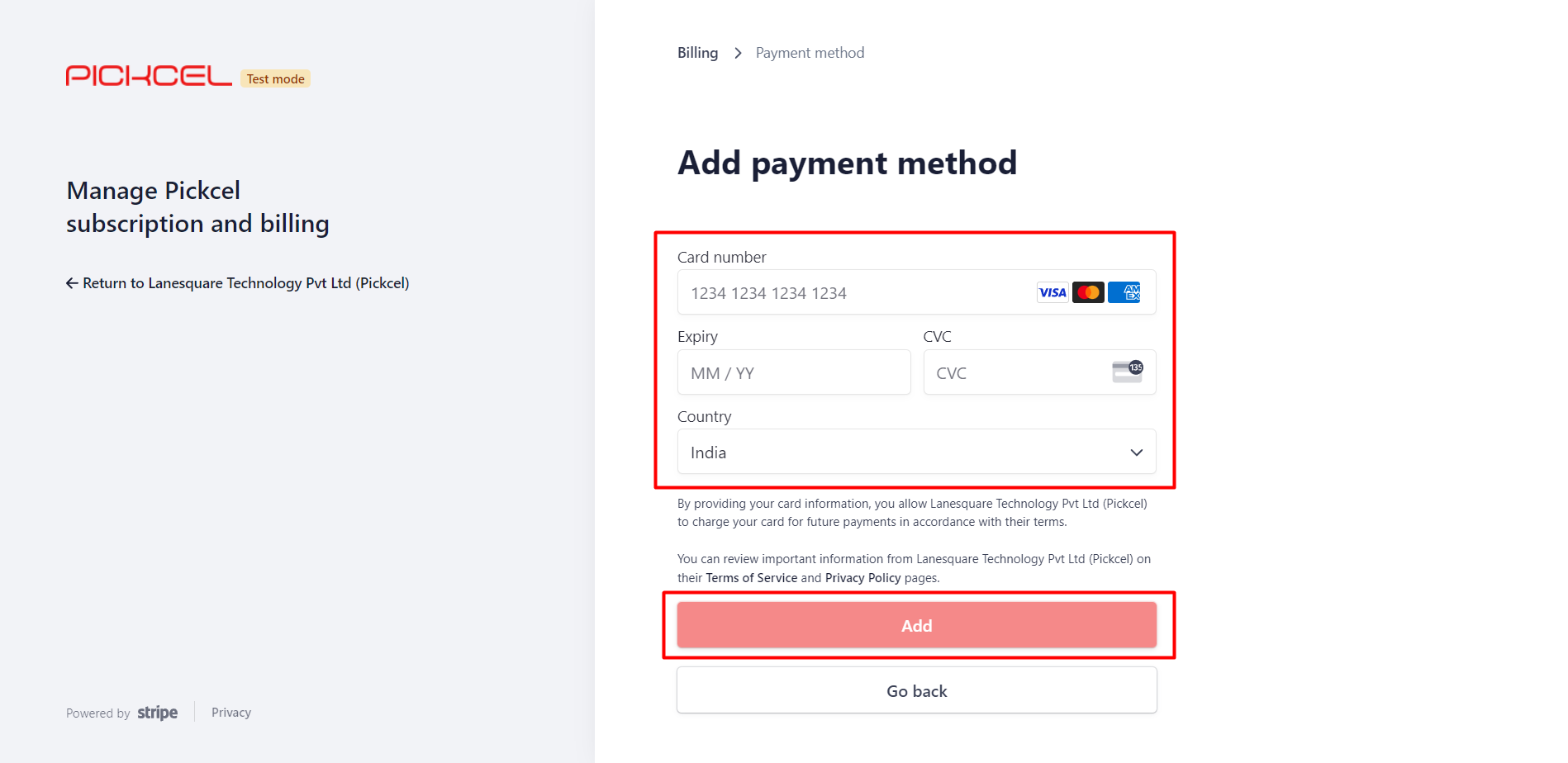 4. The newly added card will be visible in the listing now. Click on the 3 dots against the card and select Make default, if this card needs to be used for future payments by default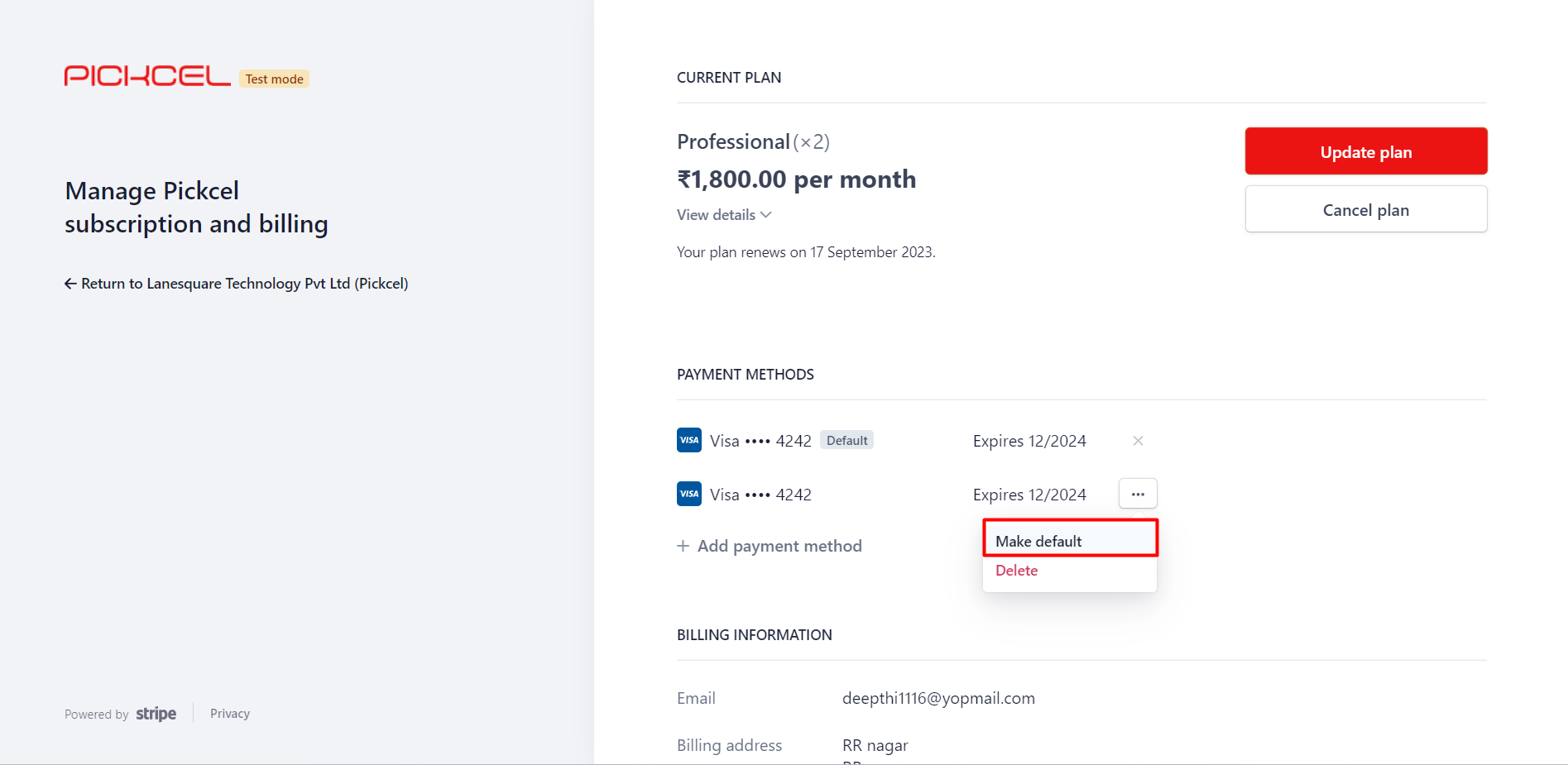 5. You can also delete this new card details by clicking on Delete.


Note that you cannot delete a card that is made default as it will be used for your active plan.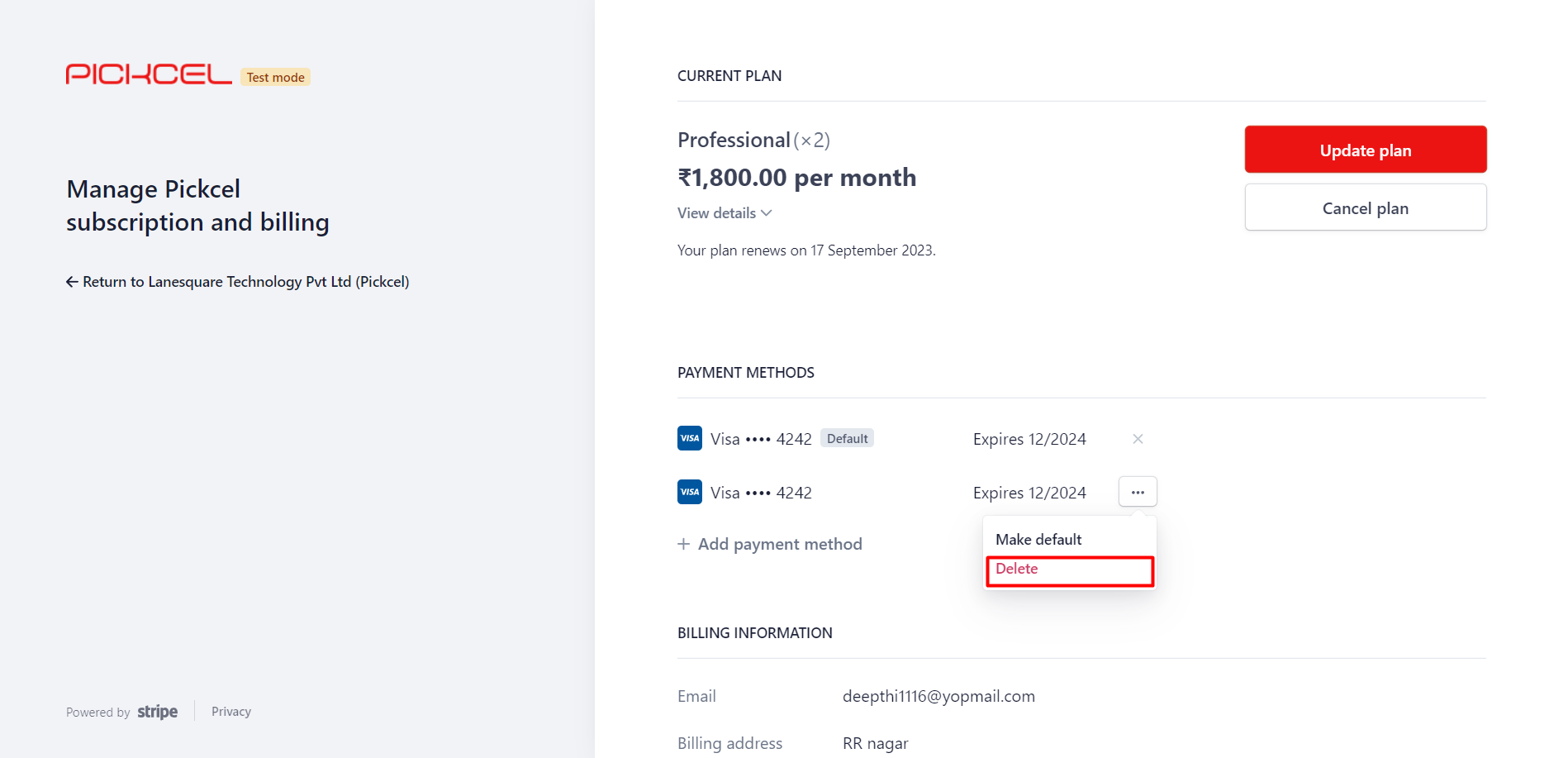 Related Articles

How to view and edit the Schedule from Screen details?

To view and edit Schedule from screen details, 1.Log in to your Pickcel account and navigate to the screen module, which will open up. Then, choose the specific screen for which you wish to view the schedule. 2. In the "Current schedule" column, ...

How to add the App for Slack from the Pickcel App Store?

Pickcel's Slack allows you to show content from your Slack account and a channel where you are a member. 1. Login to your Pickcel account. Click on the Apps module. 2. Search for the app Slack using the Search box and you will find the app "App for ...

Why my card is getting declined multiple times?

Declined card payments can occur due to various reasons, and we're here to support you in resolving this issue. Common Reasons for Card Declines: Incorrect or Expired Card details: Ensure that the card details are accurately entered and that the card ...

Does Pickcel support UPI payments?

Currently, Pickcel does not provide UPI payment support. You can complete your payment using your card instead. If you encounter any issues with the payment, please feel free to reach out to our support team for assistance. Related link: 1. What are ...

How do i change account ownership to another user in Pickcel?

To change account ownership to another user in Pickcel, you'll need to request assistance from the Pickcel Team. Unfortunately, this process cannot be performed independently. Please reach out to our Support team, and they will guide you through the ...