What are Roles and how do I set user Roles for a user?
A
user role
defines a set of permissions for
users
to perform a group of tasks. By default, there are 4 roles. Admin, Manager, Editor, and Operator.
The first registered user gets assigned as the 'Admin' who has access to everything in the account. The remaining 3 roles can be assigned to the other users by the Admin.

A. Defining Roles of Users
1.
Go to the '
Settings'
module and click on the '
Role'
tab.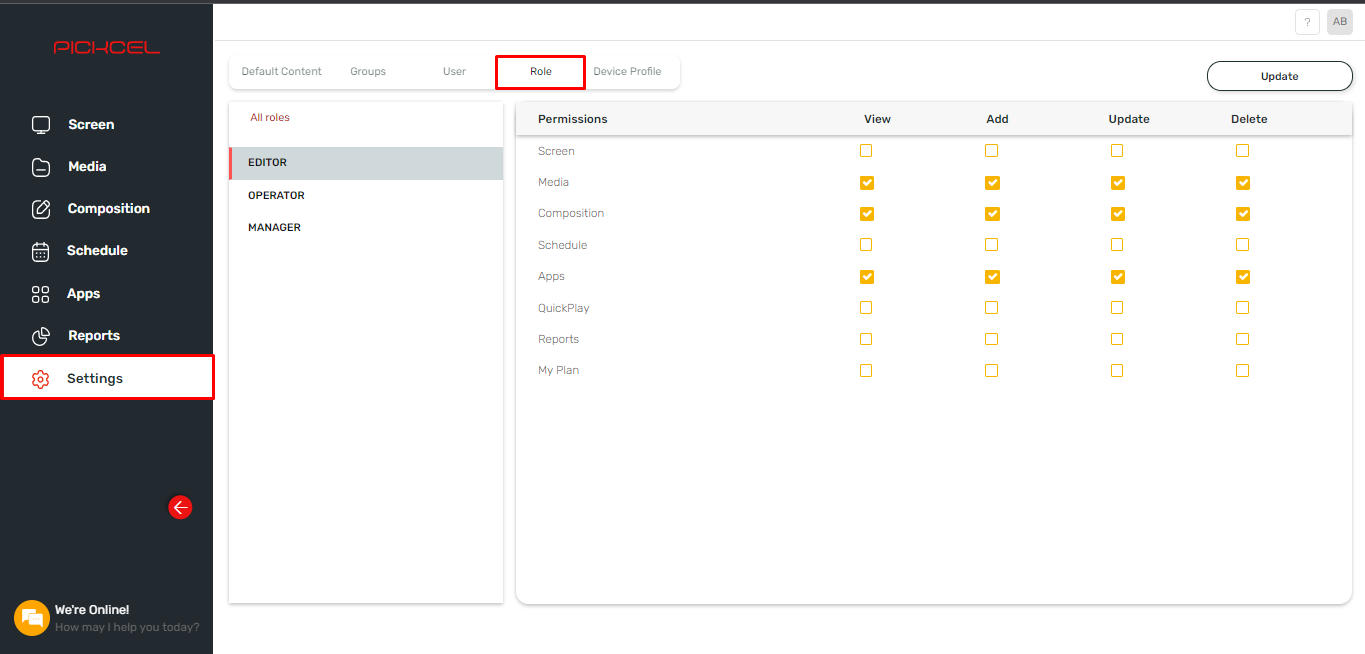 2. Under the Role tab, you can set the permissions for different Roles by clicking on the
check boxes
next to the specific task controls that you would allow a specific user (Manager/Editor/Operator) to access.Then click on ' U
pdate '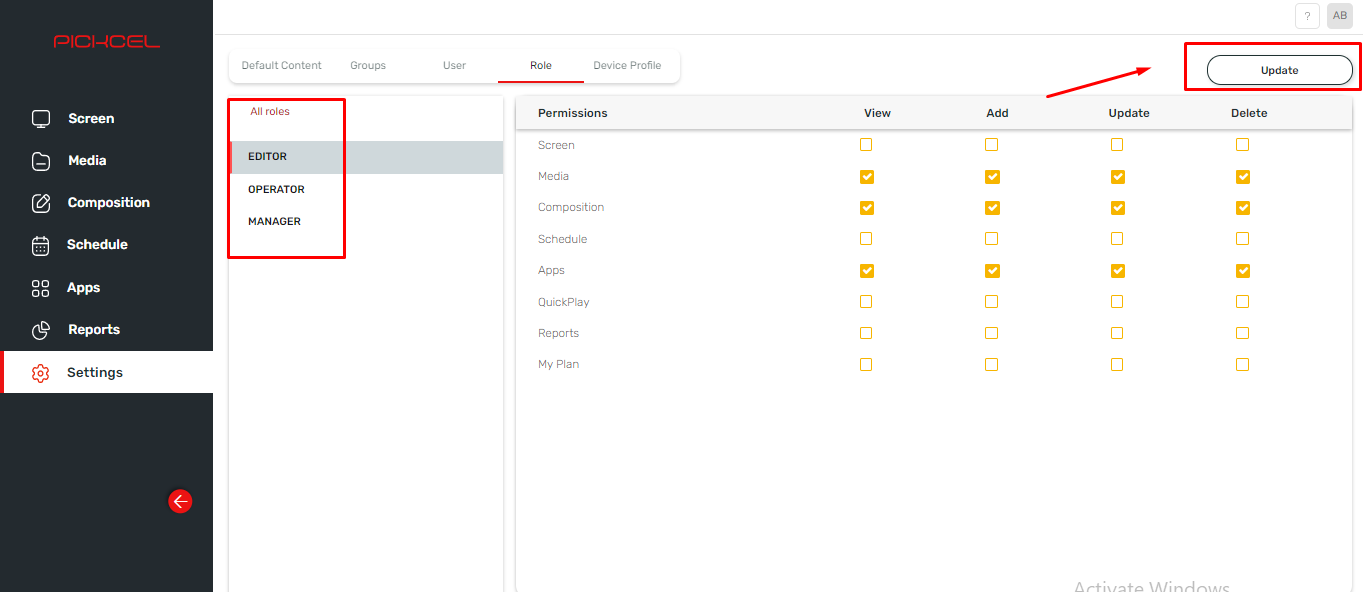 B. Assigning Roles to Users
3. To assign Roles, you have to add users. Go to the '
User'
tab and click on the
'+ Add User'
button.

4. Add the user details (name, email address,Password) and from the Drop down menu
select the
User role
.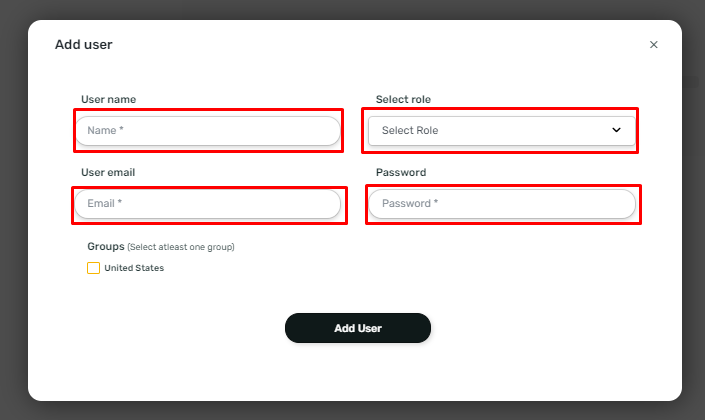 5.Select at least select one group (User creation is not possible w
ithout groups )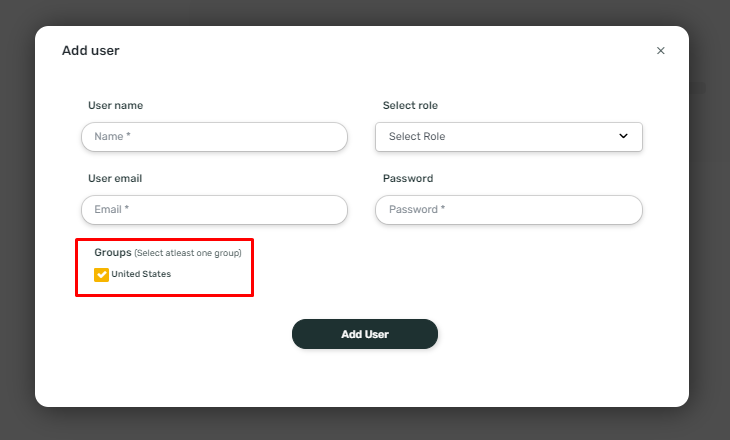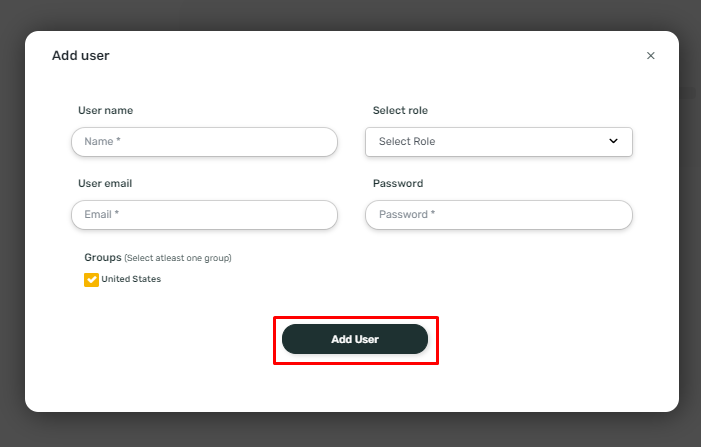 Related Articles

Who is a Sub user and How do I add sub users in Pickcel ?

Sub-User means any person that is given access to the particular Pickcel account by the Admin user of that account. The access of the subuser can be restricted using roles and permissions. Please refer What are Roles and how do I set user Roles for ...

Who can become an Enterprise user?

You can become an Enterprise user if your license requirement is for more than 250 displays. Any existing Trial or Professional account can be converted to an Enterprise account. For more information on our Enterprise plan, visit ...

How many user logins do I get with a single Pickcel account?

As of now, you'll get only one user login for an account for the Trial and Professional plan. Enterprise users will get a multi-user login feature upon request. In the future, you will get a provision to add multiple accounts with different ...

How can I set the scheduler per group (store) ?

If you would like to set schedule for all devices in the store at once, please follow the below steps for assigning a schedule to all devices in a store (added under one group) : If you have not mapped the screens to groups/stores already, please ...

How does a user register in Pickcel?

1. Open https://console.pickcel.com/#/register in any web browser. 2. Enter the details and create an account using a valid email address which will also be your Username. You can also sign up using Gmail login or Apple login in the sign up page. ...