Why is my scheduled content not reflecting on the screen?
Please check the following:

1. Go to '
Screens
'. Module, Click on the Screen name to see the screen details. Check if your scheduled content is shown under '
Currently Playing
'. If not, then check the next step.
2. Go to the 'Publish' module. Check if the current date and time fall between the set 'Start Date' and 'End Date'. If not, change the dates as per your requirement. But, if the date & time are correct, yet, you are unable to see the scheduled content, check the next point.

​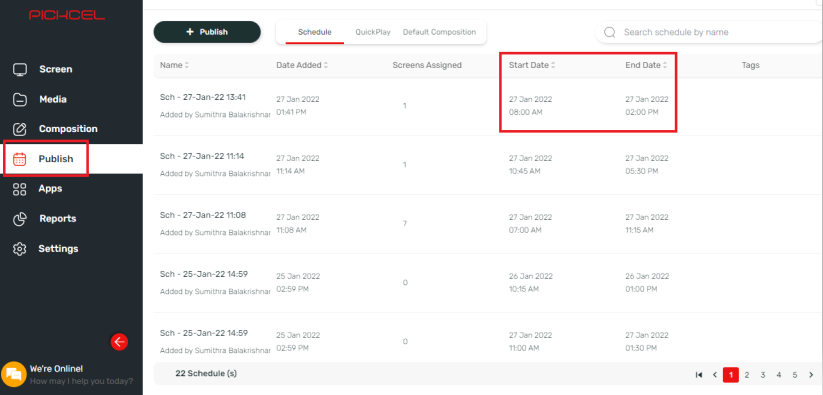 3. Check if the Time Zone, Date, and Time of your player have been set incorrectly. If so, reset it. If you are still facing the issue please contact our support team.
Related Articles

Why is Default Content running on my screen even after schedule is associated to it?

Default composition is a composition set to any screen that has no Quick Play or scheduled content assigned to it. This is also the composition that starts to play automatically whenever a new screen is added. Default content may be running on your ...

Why is my screen always showing the default composition?

The default composition plays when there is no Quick Play or scheduled content assigned to your screen at any given time. However, if you have set a Quick Play or have scheduled any composition and it is still not reflecting on your screen, then ...

Can I get a screenshot of the content that is running on the screen ?

Yes, you can take a screenshot in real-time to check what content is running. However, note that All media player /screen types do not support remote screenshots. The process to take a screenshot - log in to Pickcel account. Select the display ...

How to remove or delete the scheduled contents?

Follow the steps below to remove or delete the scheduled contents. 1. Deleting a Schedule: Click on "Schedule" navigation menu. Hover on the required Schedule and click on Three dots. Click on "Delete". Click on "Yes Delete" on the ...

How do we Schedule or Publish contents on the screen?

Scheduling is a way to publish predefined content to the screens for user's choice time and date. Schedule can be set for any shorter to longer durations (upto 6 months). Use of Schedule option allows the users to schedule content for varied simple ...