How to upload and publish Excel/PPT files on the Screens?
Currently, Excel/PPT/Word files are not supported in Pickcel. However, as an alternative, you can use
Google Slides
app to publish Excel/PPT/Word files on your screens.
In Google Sheets / Slides / Documents:

Create or Open the Google Sheets / Google Slides. / Google Documents

Click on the "File" menu.

Select the "Publish to the web" option.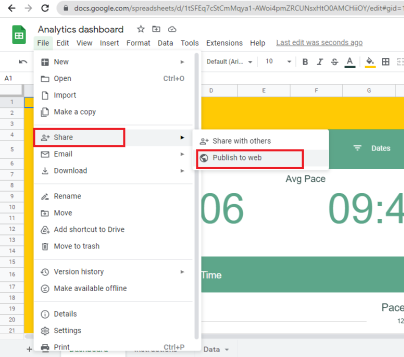 Make sure the Embed tab is selected.

For Google Sheets, choose "Entire Document/specific sheets" and "Web Page".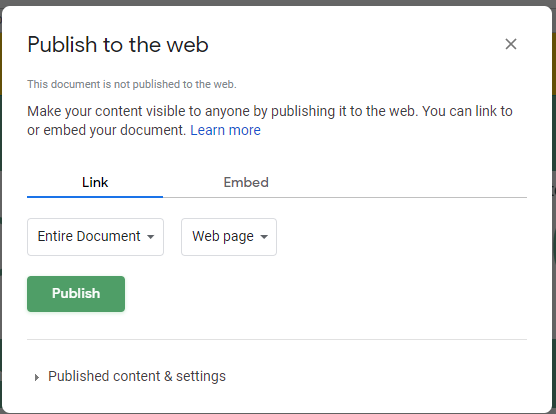 For Google Slides, set the duration and check both checkboxes "Start slideshow as soon as the player loads" and "Restart the slideshow after the last slide".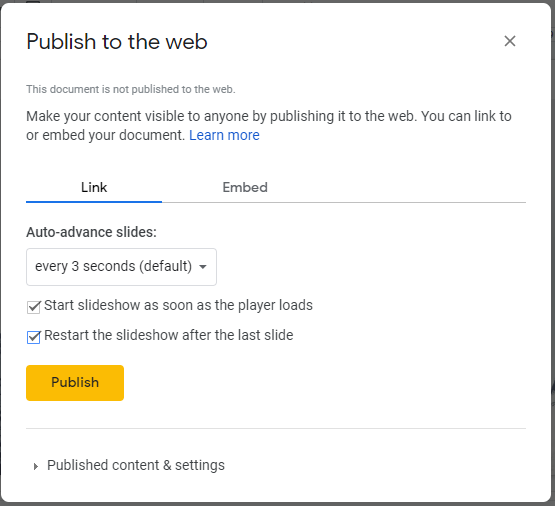 For Google Document you can select "Published content & settings" if required to restrict access.
Follow the below instructions to upload files.

Login to Pickcel

.




Click on the "Apps" Menu.


Select Google Slides app.


Name the app and paste the document link in the "URL" box and click on the "Create App" option.


Use this app in your screen composition and schedule it on the required screens.


Your Google slide will be live on your selected screens.
Related Articles

How do we Schedule or Publish contents on the screen using Publish module(V4)?

Note : This feature will be available to users registered after 27th Jan 2022 Watch us on Youtube ! Scheduling is a way to publish predefined content to the screens for user's choice of time and date. Schedule can be set for any shorter to longer ...

How do we Schedule or Publish contents on the screen?

There are three ways to schedule/publish the contents. 1. Quick Play Click on "Composition" Create a composition if you do not have one created. Hover your mouse on to that composition to see the "Play" icon and click on it. Give a name to this quick ...

I want to make the media files available to the sub users. How can I do that ?

By default the media files you upload are private to you. You can make it available to all of your sub users by selecting an option while uploading the media file. Please contact our Support team to enable this option in your account. Once you have ...

What is Quick Play and How to assign a quick play to the screens?

If you wish to immediately display a composition on a screen for a specific duration, you can employ the Quick Play option. Quick Play takes precedence over any existing schedules on the display. This feature is best suited for urgent or emergency ...

Does Pickcel provide display screens?

While we do not directly sell screens, we are fully equipped to assist you in acquiring display screens. We have established partnerships with renowned panel manufacturers such as LG, Samsung, and Phillips. For additional details, please feel free to ...