Why am I getting "Player rendered failed" on my screen?
There could be two explanations for the occurrence of the "Player rendering failed" message on your screen:
If the video you've uploaded is in 4k resolution, and your screen does not support this resolution, you might encounter this error message.
Another scenario where this message may appear is when there are 2 or more videos in different zones playing at the same time.

It is highly recommended to add all video contents in same zone for smoother experience. You might see this warning when you try to add videos to more zones in composition creation time.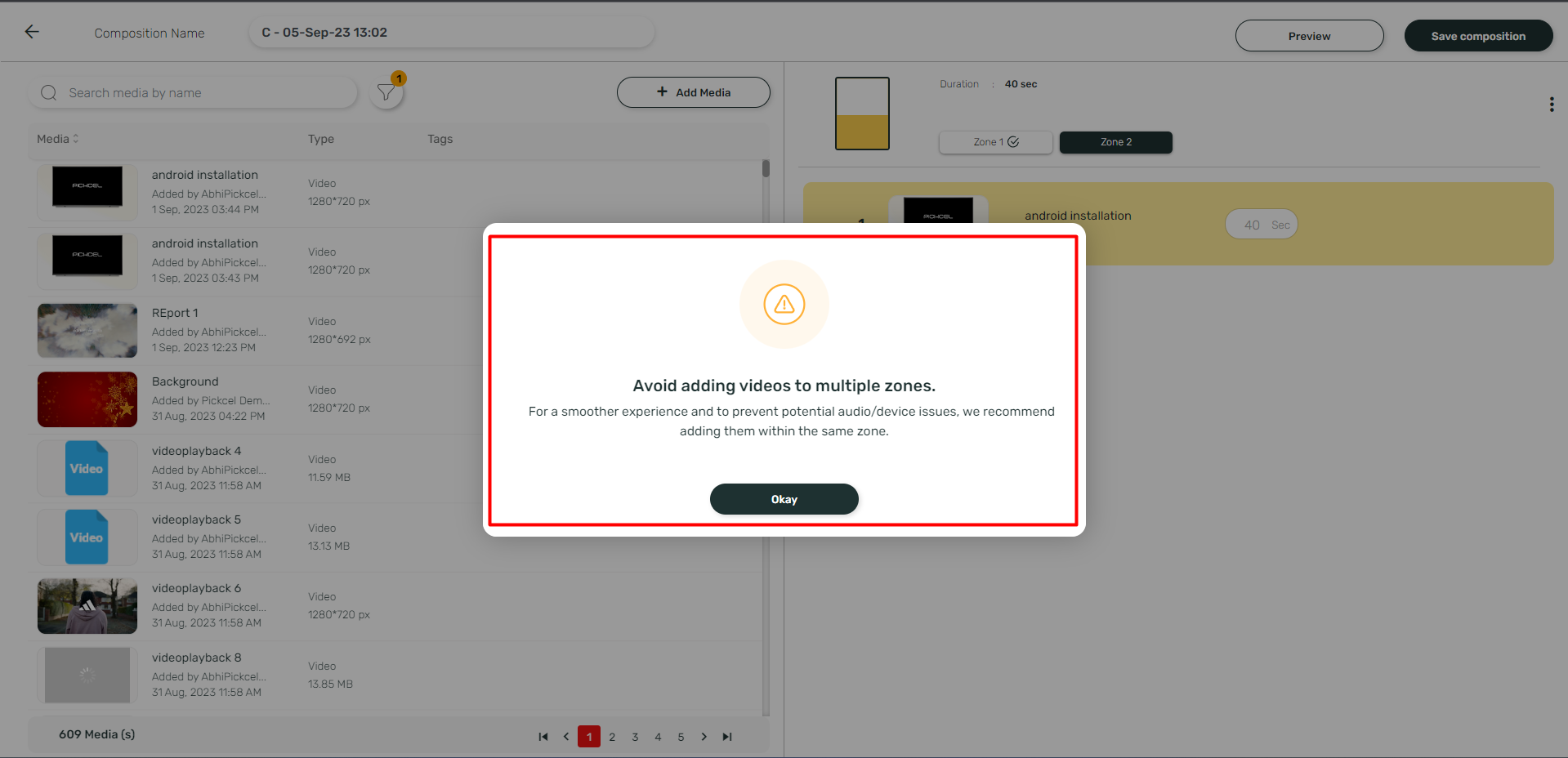 Related Articles

What's Signage Media Player ?

A media player is a device connected to the internet that showcases content on a screen. It serves as a conduit between the Content Management System (typically a computer) and the display screen. Its primary function is to receive instructions from ...

What's causing my Samsung Tizen TV getting stuck in the "Waiting for content" screen?

There are two primary factors leading to the Samsung Tizen TV getting stuck in the "Waiting for content" screen: Your internet connection is experiencing instability. The TV storage has reached its capacity. To address these issues: Verify your ...

Is Signage Media Player always needed ?

No, If screen has built-in media player then it is not required. A built-in media player means the signage player is embedded within the monitor itself. Example: Smart TVs based on Android, LG WebOS, Samsung Tizen etc.

How to configure a signage media player ?

Here are some general configuration steps you can follow when you want to configure an external signage media player like Android Box/Mi box/Firetv: First connect the media player to your TV screen with a HDMI. Configure this media player by ...

I am unable to register my screen; getting an error as "Invalid registration code!"

If you encounter the above mentioned error, please perform the following checks: Ensure that the registration code is entered with the correct letter case, matching the code displayed on the screen precisely. Verify that the server name on the ...